In the saturated world of art, Alexis Fraser, sought to differentiate herself from the rest when she began experimenting with an unusual medium for her art, lipstick.  Tasked with a portrait of Marilyn Monroe, she had a lightbulb moment to incorporate a feminine product like lipstick and her own kisses.  Fraser and her husband posted the video of the painting process to YouTube and it became a hit.  Soon after, Alexis became known as "Lipstick Lex" in the art community. All of Lipstick Lex's work is adorned with kisses and is her way of channeling love into each piece.  When asked what inspires her art, she explains that a kiss print is symbolic of feel good vibes: love, self-love, beauty, empowerment, joy, and positivity, which is a message she wants to spread through her art and out in the community.
Lipstick Lex is now a beautiful, vibrant art gallery in the Rosemary District of Downtown Sarasota.  We toured the gallery, full of one-of-a-kind pieces, props, furniture, neon lights, and even a makeshift playroom upstairs for her two children with school and daycare on hold for the past two months.  Fraser's plans to open the studio in March were sadly halted by the onset of COVID-19, but she isn't letting that stop her plans for the future to utilize the space as a community venue for comedy, slam poetry, live music, art workshops, and Camp Create, a kids camp set for this summer for children ages 6-12 to learn the fundamentals of art.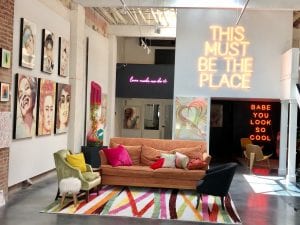 Along with launching the gallery, Alexis created her own foundation to give back to the community, Kisses for a Cause.  Upon receiving her official non-profit approval a week into the COVID pandemic, she made herself purposeful and started the Made With Love project, teaming up with a group of local women to put together community kits to help families in the area affected by closures and unemployment.  The kits contain products and services that bring positivity to the families while supporting local businesses.  Fraser balances her life as an artist and mother with the support of her husband, and is ecstatic to have daycare reopening.  Her daughter, 6, has even started her own lipstick art and recently sold her first piece.
For an opportunity to visit the gallery and learn more, look for The Sarasota Moms July Brunch & Art event to be hosted at Lipstick Lex.  Come create a piece of your own lipstick art, socialize while properly distanced, snack, and sip on some bubbly.
To see the full interview, check out The Sarasota Moms YouTube channel.