How many kids do you have and what are their ages?
Should I count my husband and my dogs? Just kidding. I have twin girls who are ten years old. I love being a mom and helping them grow into the amazing people that I am sure they will become. My husband and I take any opportunity we can to expose them to art, culture, and even business. They are even members of our Sunshine Crew, where they help out from time to time with yard sign displays.
What do you love about living in the Sarasota area?
I am from Sarasota and left after high school. I met my husband at Florida State University. We traveled a bit and even lived in London, England for a while before we had our children. A few years ago we moved to Atlanta. We loved the change of pace living north of Atlanta offered. There is lots of space, the Blueridge Mountains are nearby, and you get some change of season. But it wasn't "home." My whole family lives in the Sarasota area and eventually, Sarasota pulled us back home. We love the beaches, the arts, and the joy we get from running Sunshine Yard Cards in my hometown of Sarasota, FL.
What's your favorite restaurant and place to shop in Sarasota?
There are so many great restaurants here it is hard to pick one. My brother Mike is one of the Big Top Brewing Company owners so we love to go to the tasting room and get an IPA or one of their fun collaboration beers. When our family is looking for some comfort food and a great atmosphere after a day at the beach, you can likely find us at New Pass Grill and Bait Shop. It is a true Sarasota landmark with great food. It is also fun to take my girls to the same place my parents used to take me when I was a girl.
Tell us about your career.
I left college as a professional educator and taught Kindergarten-3rd grade before my daughters were born. I have a real passion for teaching and didn't think anything could take my attention from that career. Soon after my girls were born I discovered a knack for photography and turned that knack into a successful family photography business in Tampa & St. Pete area. I spent a few years working as a professional photographer. I enjoy creating so much and while teaching will always be a passion, working in the arts is something I just love to do.
When we moved to Atlanta, I didn't take the photography business with me so I had some time to decide what was next for me. I never stopped creating and was always helping a friend or the PTO plan a party or an event. At some point, yard signs came onto my radar and I booked yard sign services several times for events I was helping with. I thought they were such a neat idea but I also saw lots of areas where I could put my own spin on the idea and make it even better! When we decided to move back to Sarasota, the yard sign rental idea moved with us and Sunshine Yard Cards was born.
What do you love about your career?
I love being creative but I really love helping other people celebrate in a memorable way. I am a strong believer in customer service and empathy and this is such a great career for that. We get people who may have left their special occasion to the last minute and seem to expect a scolding for doing so. It is our pleasure to be able to help someone out of a jam and to do it with a smile. We spread sunshine and yard signs, I like to say! I also love how diverse Yard Signs can be. Everyone immediately thinks birthdays and anniversaries, but they can be so much more. As part of our service, we are always on the lookout for ways to make new, custom yard signs for our clients. This keeps our yard signs fresh and modern and our inventory full so we can always say yes to yard sign requests. We have created adoption displays, celebrated homecomings for loved ones who successfully battled Covid-19 and just the other day helped someone from Minnesota send a "Carpe Diem" yards sign to a friend here in Sarasota who needed a pick me up.
What are some of your hobbies?
Well, my brain is pretty busy so I have a lot of interests. My friends who know me well know I love design, especially when it comes to interior design. My house is always changing and evolving with my taste and the seasons. But I also have a great love for nature and traveling. Before we moved back to Sarasota my family took a "radical sabbatical" with the kids. We RV-ed all over the United States in our bright red Winnebago camper with our two dogs and it was an amazing adventure. We were gone for 9 months, drove fifteen thousand miles, and saw just how amazing our beautiful country is.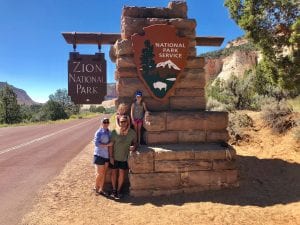 How do you juggle work and motherhood?
Next question, please. Just kidding again. It is full of challenges but I just try to keep a strong framework of routine…with tons of room for flexibility. In addition to building Sunshine Yard Cards from the ground up, I am also continuing to homeschool my daughters. I like to view my career as a way of modeling to them what you can achieve using your passions and hard work.
What is the best piece of advice you've received from another mom?
Homeschool mamas give some great advice and the best piece of advice I've received is the idea of peace and progress. I have adopted this as my mantra in homeschool and life. It reminds me to just keep calm & move forward, no matter how little, everyday. When we do a little better each day, good things will come.
-Alaina Elliott, Owner of Sunshine Yard Cards
Learn more about Sunshine Yard Cards here!