Welcome to CapoKids
We use Capoeira, a brazilian martial art, to teach your children how to have discipline, balance, strength, social skills, music and much more. Capokids is the only licensed martial arts school in Sarasota and Manatee counties. All the instructors have CPR and Fist Aid certification and back ground checked by the FBI. With regular classes, Preschool and After-school programs we are positive that you will find the right program to give your children the skills to improve the quality of their lives for ever. They will thank you later. We know that because they thank us daily for over 20 years.
Multiple locations in Sarasota
Call for availability: 941-922-4520
capokids.com
At CapoKids Summer of FUN Camp your child/children will learn:
Capoeira (Brazilian Martial Arts)
Balance
Acro
Play brazilian instruments
Maculele (stick fighting)
Grappling
The Meadows Kids Summer Sports Camp
2004 Longmeadow Sarasota, FL 34235
(941) 378-5265, [email protected]
Ages 6-14
06/15-08/07
Each camp is 1 week (5 days)
Max 15 children per Weekly Group
Tennis, Golf, Swimming
Call or email the Pro Shop to reserve your spot and check availability!
Are your kiddos bouncing off the walls and missing the stimulation and socialization that they were getting at school?
Lipstick Lex is putting her Bachelors in Art Education to work with her latest project, CAMP CREATE! Where else can you find a camp hosted by an international artist who works one on one with your child? This 6-week camp will open your child's mind and expand their cultural awareness and creativity.
Days: Tuesday – Thursday
Hours: 9A – 12P
Ages: 6-12
Register for 1 week or all 6!
$150/week per camper (non-refundable)
Lipstick Lex Gallery
1419 5th Street, Unit A
Sarasota, FL 34236
P: 941.330.9999
Week 1 // June 23-25: Music to My Eyes
Week 2 // June 30-July 2: Movies Come Alive
Week 3 // July 7-9: ScEYEnce
Week 4 // July 14-16: Game Dayz
Week 5 // July 21-23: Calming Crafts
Week 6 // July 28-30: Coming Full Circle
HOW ARE WE KEEPING YOUR KIDDOS SAFE/HEALTHY?
Classes will be limited to 10 children per week to enable proper social distancing.
Each child will have their temperature taken at check-in prior to entering the gallery each morning. Any child with a temperature will not be allowed to participate.
Gallery will be cleaned, and all materials are one-time use to ensure that campers are using completely sterile and safe items throughout the day.
Each child will get their own art caddy to contain their own personal supplies during camp. Items used by children will be cleaned and sanitized after each use – there will not be equipment or materials passed to different children without sanitation.
No outside food or beverage will be allowed. Water will available for each camper.

Sarasota County Camps
NOTICE: Registration opens June 8 for Specialty Camp and Day Camp
Online and drop-off registrations opens for both Speciality Camp and Day Camp programs June 8 at 9 a.m. (Drop-off registration will accept payment by check and credit card only.)
Five weekly summer camp sessions will begin June 29 through July 31 with reduced enrollment at five locations. A sixth week mini camp will be offered at Colonial Oaks Park and Woodmere Park from Aug. 3-7 (pending registrations and staff availability.)
The number of spots available at each site will be reduced to help maintain social distancing.
Day camp will be offered for children entering grades 1-5. There will be no Adventure Camp offered this year. There will be no C.I.T. Program this year. Specialty Camps scheduled June 1 through June 28 are also cancelled.
Day Camp
North County Day Camps are designed for children entering grades first through fifth and are offered at Bee Ridge Park, Colonial Oaks Park and Longwood Park. South County Day Camps are designed for grades first through sixth and are offered at Laurel Park and Woodmere Park. Day Camps include weekly themes, multiple field trips a week, physical activity, creative arts, science and nature, safety and wellness, summer reading and character-development activities.
Financial Aid
Sarasota County families must qualify for free or reduced lunch through the National School Lunch Program to be eligible.
The approval letter from the Sarasota County school district must be included with the online application.
A limited number of scholarships are available per qualifying location. Applications will be processed in the order received.
Financial Aid applications are closed.
Questions regarding financial aid should be directed to 941-861-PARK (7275) or [email protected].
Online Registration
Online registration for Summer Camp requires a web account. It is strongly encouraged to create an account or to update existing accounts in advance of registration opening on June 8 at 9 a.m. Log in here.
We will are offering camp starting on Monday, June 15th for ages 7-12yrs. Camp for ages 4-12yrs will begin July 6th. Camp will be offered Monday-Thursday 9:30-11:30. Camp is $25 per day. Beginning July 6th camp will be offered 9am-3pm on select days & 9am-12pm M-TH. All dates & times are available for pre-registration in the portal. Please log in or create an account on our customer portal to sign up for gymnastics camp.
4015 Clark Road – Sarasota, FL 34233
941-923-2100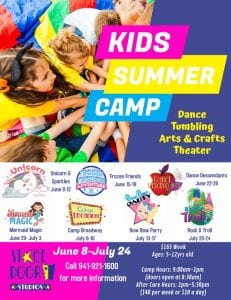 Stage Door Studios
4001 Cattlemen Road, Sarasota, FL 34233
(941) 921-1600
Dance, Tumbling, Arts & Craft, Theater
Ages 5-12
06/8-07/24
9am-2pm
$165/week
After hours care available 2pm-5:30pm $40 per week or $20/day
We are back and ready for another great summer! During Mote Camp: Summer 2020, kids can get involved in something fishy in our ocean-themed summer camps from Mote Marine Laboratory and Aquarium. We offer a wide variety of camp themes both onsite and offsite for campers entering Kindergarten to 12th grade. We also offer something for the little ones, 2-5 year olds with their favorite adult can join in on the ocean fun with our Shark Pups & Grownups Camps.
1600 Ken Thompson Pkwy, Sarasota, FL 34236
941.388.4441 x324
[email protected]
REGISTRATION INFORMATION: Campers must be pre-registered by 11:59 p.m. on Sunday the week prior to their selected camp week. If space is available, we are able to accept late registrations for half day, onsite camps until 12:00 pm (noon) the Friday before the desired camp date for an additional $25 registration fee. Due to the extensive preparation we undergo to be ready for each camper, we are unable to accept on-site registration.
All required camp paperwork and confirmation materials will be included in the Confirmation Email once registered. Please REVIEW and COMPLETE ALL MATERIALS, including the Emergency Medical Treatment Authorization and Video Release Form (which needs to be signed by the camper's legal guardian). One form per camper per camp program. This form may be faxed, mailed or emailed to:
Mote Marine Laboratory
ATTN: Camp Programs
1600 Ken Thompson Pkwy
Sarasota, FL 34236
Fax: (941) 388-4381
[email protected]
Shark Pups & Grownups (2-5 year olds & their favorite adults)
Price​: $90 members, $100 non-members
Days:​ Tuesday, Wednesday, & Thursday (no single day registration available), 9:30AM to 11:30AM Water activities for this camp are on Thursdays only
Tidal Tykes (Entering K-2nd Grade)
Aqua Kids (Entering 3rd-5th Grade)
Sea Sleuths (Entering 6th-8th Grade)
Price​: $234 for members, $259 for non-members
● June 29th – July 1st Prorated 3-day camp: $140 for members, $155 for non-members Days:​ Monday through Friday, 8:00AM to 12:00PM
Tidal Tykes & Aqua Kids: Snorkeling & Boat trip included (campers must bring own mask & snorkel) Sea Sleuths: Snorkeling, Kayaking & Boat trip included (campers must bring own mask & snorkel)
THIS SUMMER IS GOING TO ROCK!
Music Compound offers a fun and interactive summer camp for Sarasota and Manatee students of all ages.
The perfect camp for kids who want to explore new music or get better in their favorite instrument. Full day options offered. Each week ends with a performance for family and friends. Find your inner musician this summer.
06/8-07/31
Grades 1-5 at Downtown Location
Grades 1-12 at Cattleman Location
Downtown Location:
Music Compound
801 Apricot Ave, Sarasota, FL 34237
Cattleman Location:
Music Compound
1751 Cattlemen Road, Sarasota, FL 34232
941-379-9100
[email protected]
Elementary ONLY available at Downtown Studio
Pricing:
$30 Registration Fee – Required for all new campers
$25 per early drop off and late pick up
$150 Half day session for a week (9AM – Noon or 1-4PM)
$300 Full day session for a week (9AM-4PM) Lunch hour is 12-1
Have a summer camp we should know about?