Local Swim Schools
Aqua Tots Swim School
3750 S. Tuttle Ave., Sarasota
(941) 919-3953
Aqua-Tots Swim Schools in Sarasota, FL provides year-round swimming lessons for kids of all ages, including swim lessons for babies and toddlers. Our world-renowned swimming instruction and "safety first, fun every second" approach features water safety certified swim instructors, a family-friendly environment, and state-of-the-art facility with a comfortable 90° pool

***Featured in our 2023 Mom Owned Business Guide*** 
Swim SRQ
3600 Torrey Pines Blvd, Sarasota
(941) 500-2582
Goldfish Swim School – Lakewood Ranch
San Marco Plaza, 8205 Natures Way Suite 111, Lakewood Ranch
ISR Providers & Mobile Swim Lessons
ISR Venice
Andrea Brooker
(941) 445-1851
Survival Swim Lessons for infants 6 months and up
School of Fish Swimming Lessons
Sarasota, Lakewood Ranch, Bradenton, Siesta Key, Longboat Key, Anna Maria Island.  We offer group and private lessons at
John H. Marble Aquatics Center, Bradenton o
r in the privacy of your own home or community pool.
Local Splash Parks
We love splash parks perfect spots to get cool and have some fun!  Some fun ideas to bring buckets, toys, balls, squirt guns, the ideas will be endless for your littles!  For some reason balls or beach balls are a favorite!
Centennial Park – Venice
Centennial Park is located in the heart of downtown Venice, between West Venice Avenue and West Tampa Avenue, and surrounded by unique shops and restaurants.  Interactive Fountain, Picnic Tables, Restrooms, Parking.  Venice Creamery (249 W Venice Ave) is literally across the street so bring some ice-cream money!
Atwater Community Park – North Port
4475 Skyway Ave., North Port
The 25-acre Atwater Community Park offers an accessible zero-entry Splash Pad with ample seating, four Little League Fields, one regulation sized baseball field, batting cages, three open-air pavilions that are available to rent, a sports-themed playground, and paved walking paths.  Park is adjacent and plenty of extra fun for the kids!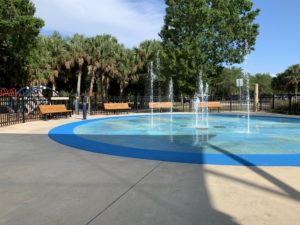 NEW! Downtown Wellen Park Splash Pad – South Venice
19755 Wellen Pk Blvd, Venice, FL 34293
Splish splash! The kids can have a blast while parents relax comfortably within their eyesight but out of the splash zone. Located in Downtown Wellen, our splash pad is a popular place for neighborhood kids to congregate and beat the heat the Wellen Way. It's the perfect activity for a splashing good time! Also nearby trails, playground, shopping and food.
Coming October 2023!  New Splash Pad Downtown Sarasota Bayfront Park
We are all looking forward to bayfront parking opening again after a long overhaul to playground/splash pad.
Payne Park
2010 Adams Ln, Sarasota
Not a huge water feature but utilized all the same Payne Park has a very small water feature in the park but a very welcome misting system that runs in the summer is a very nice feature of this fun circus themed park.
Aquatic Centers
Quick note on any outdoor pools and water activities be sure to check your forecast and plan accordingly.  Lightning will close all outdoor water activity for at least 30 min after the last strike if within a certain radius of activity and you will have to shelter indoors or asked to leave.  Generally in the summer mornings are a better bet as thunderstorms can be a daily occurrence in the afternoons typically after 2pm but can be anytime of day so be prepared.  Bring plenty of water and sunblock and follow your reapply guidelines we had many burns our first year here in Florida the sun is especially brutal so high spf and reapply every 2 hours is our rule.  We also utilize swim shirts, hats and sun glasses.
Arlington Park & Aquatic Center
2650 Waldemere St, Sarasota
Conveniently located less than two miles from downtown Sarasota, Arlington Park was selected as one of the South Florida locations on the Great Florida Birding & Wildlife Trail. This city park offers residents and visitors a 50-meter lap pool, 25-yard instructional pool, outdoor basketball courts, tennis courts, playground, outdoor fitness gym, ½-mile walking trail, and dog park. This park is owned and operated by the City of Sarasota Parks & Recreation District.
North Port Aquatic Park
6205 W. Price Blvd., North Port
Soak up tons of fun as you slide, splash, and swim with us. Chill on the Relaxahatchee Lazy River or in the heated competition pool. Enjoy a sweet treat from the Sand Dollar Snack Shack. Earn your stripes on the Barracuda Blast drop slide or just let the kids splash the day away on the Pelican Splashground.
RL Taylor Community Center
1845 34th St, Sarasota, FL 34234
Pool Now Open!
Zero Entry, Splash Pad Zone, Small Slide, Large Slide, Jacuzzi Section, Lap Lanes and plenty of outdoor seating and access to locker rooms.
Sarasota Sharks Inc. at the Selby Aquatic Center
8501 Potter Park Dr, Sarasota, FL 34238
The Selby Aquatic Center and Water Park are operated by the non-profit Sarasota Sharks, Inc. The center consists of a 50-meter, Olympic-size pool; 25-meter warm-up pool; and a seasonal water park.
Lincoln Aquatic Park
715 17th St E, Palmetto, FL 34221
Lap pool, water park, water slides, picnic tables, chairs, restrooms
Summer hours will be in effect Saturday May 27 – Sunday August 6.
Family Swim, Play Structure, & Slides
Monday – Sunday: 11:30 am – 1:30 pm and 2 pm – 4 pm *FREE SESSIONS SUMMER 2023
Public Pools
Sun Outdoors Sarasota
7125 Fruitville Rd, Sarasota, FL 34240
Our scenic resort features indoor and outdoor pools, a mega water slide, a massive health club with a gym and fitness studio, pickleball courts, miniature golf, arts and crafts, and live entertainment.
Lido Beach Pool & Pavilion
400 Ben Franklin Dr., Sarasota
Amenities include a concession stand with covered seating, a 25-meter lap swimming pool, and Restrooms open daily from 7:00AM to 11:00PM.
Venice YMCA
701 Center Road, Venice
The Venice YMCA was founded in 1967, operating in a storefront under the Venice Avenue Bridge. The Y grew over the years, relocating to Center Road and added a Wellness Center, Gymnasium, Pool, and Childcare Facilities.
Beaches
Mote Beach Report https://visitbeaches.org/ – I check this report often to find out about seaweed, red tide or any other beach conditions present.
Turtle nesting season starts in June and so you will notice the nests marked down on the beaches and it becomes important to make sure to fill in holes kids might dig while playing in the sand.  Manatees also frequent the waters near our beach and they are not to be touched purposefully but are so fun to watch in the water!  To find out more about our wonderful wildlife mote.org offers lots of great information.
There are so many beaches to choose from in Sarasota County here are a list of our family friendly favorites!
Nokomis Beach/South Jetty Park Beach
100 Casey Key Road, Nokomis
This is a great local beach south of Sarasota. You will find this beach to be very family friendly with playgrounds, snackbar, restrooms/showers, life guards.  Plenty of our gopher tortoise are around these beaches and you will notice marked off habitat areas- they are protected so please respect their homes and keep children from interfering with them.   Nokomis Beach is the first beach you come to once you cross over the intercoastal but take a left follow down to the end and you'll find South Jetty Park Beach tucked away.  South jetty is a local fishing spot and great viewing area.  Fishing for children is free and encouraged you can stop off at Fish Tales Bait & Tackle (101 S Tamiami Trail ) for great information on local fishing and all the gear.
Siesta Beach
948 Beach Rd, Siesta Key,
Known as the #1 Beach in the USA – Siesta Beach has the whitest soft sand that locals love and beautiful water.  A busy beach year-round arrive early for parking and bring plenty of sunblock and shade!  There are several parking lots adjacent to the beach the main parking pavilion also has a fun sandcastle playground, snackbar for food and refreshments, restrooms and beach showers available.  Be prepared for a short hike getting down to the water probably a least favorite feature for families but the sand and beautiful tropical vibe more than make up for it!  Nearby is the Siesta Key Beach town with cute little shops and eateries and one of my favorite ice-cream shops Jakes Ice Cream Shop 6575 Midnight Pass Rd. Siesta.
Venice Beach & Caspersen Beach
4100 Harbor Dr S, Venice  (Caspersen Beach Parking)
Not too much further south you can venture down to "Shark Tooth Capital of the World".  Venice Fishing Pier is beautiful place to setup for the day with Sharky's (1600 Harbor Dr S,) nearby for casual and fine dining as well as shopping and walkup sackbar you'll find everything you love right there!  Sand is more grey so bring those flip flops as it tends to get hot in the summer sun!  We love this beach for sunset, cocktails and walking on the pier.
But if shark teeth are what you are looking for then grab your refreshments at Sharky's (no food at Caspersen) and keep heading south to Caspersen Beach.  This beach stands out with rock features along the beach – it just looks like a treasure trove of beach finds!  This is a popular beach to hunt shark teeth with a variety of tools at hand from kitchen strainers and bowls to more fancy sifters and sand shovels.  There are restrooms and showers but no food/beverage services.  Also a good idea to get there early!  Accessing the beach can prove to be a little more walking not as far as Siesta but be prepared to hike a bit for your spot.  I suggest pack light!  Fun beach to explore!
Swim Teams
YMCA of Southwest Florida Hurricanes
701 Center Rd, Venice
Year round competitive swim program designed to meet the needs of every swimmer! Whether you're looking for a competitive team that emphasizes stroke, technique and strength training or a means of personal exercise, the Hurricanes are your best fit!
Sarasota Sharks
Selby Aquatic Center
8501 Potter Park Dr, Sarasota, FL 34238
Swim groups and teams for all ages and levels.